Websites for Higher Education & Research
I have built over a dozen websites for university-affiliated groups. My extensive experience can help your department, program, or lab better serve students & faculty and promote the outstanding work that you do. Contact me today.
Design that Leaves the Right Impression
First impressions count. Visitors to your site form an opinion of your organization in just a few seconds. Don't let a cluttered, out-of-date design give prospective students, researchers, and grant funders the wrong message about the quality of your program's work.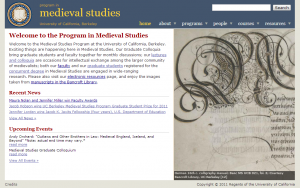 The Program in Medieval Studies at UC Berkeley quickly takes visitors beyond typical visions of knights in dark castles by highlighting the beauty and elaborate craftsmanship of the era on its website. The home page features rotating images of actual calligraphy, bindings, illuminations, and texts from the era, giving visitors an immediate sense of the richness of the subject matter.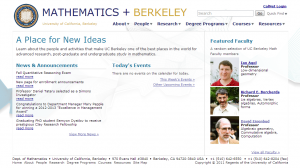 The Math Department at UC Berkeley chose to emphasize its research on new and exciting problems. The clean, simple design with its single abstract background image reflects this modern approach. Visitors quickly identify Berkeley Mathematics as "A Place for New Ideas."
Structure that Suits You
Departments, programs, institutes, and labs all have different structures, process, and goals -- none of which are well served by a blog or corporate-style marketing site. Unlike some one-size-fits-all website packages, I customize the structure of each site I build to fit my clients' needs.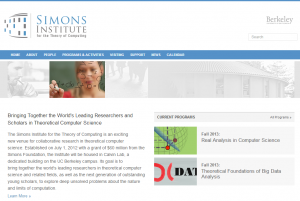 The Simons Institute for the Theory of Computing hosts dozens of events each semester. Programs may contain multiple workshops, which may contain multiple talks -- all in parallel with other events and socials not related to a specific program. Their highly customized website makes it easy for staff to publish information about each event and for visitors to access that information.
Integration with Services to Save You Time
Your website can automatically download events and course information each night from the main campus directories. And it can let staff, students, and faculty log in with their campus CalNet ID, or other campus authentication system -- because you have better things to do with your time than post information in more than one place and manage passwords.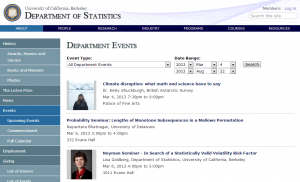 The Statistics Department website retrieves an XML feed of statistics-related events each night from its University calendar at http://events.berkeley.edu. Copies of the events are made locally in the Drupal content management system and made searchable. New upcoming events are also automatically featured on the home page.
Faculty & Student Profiles that They Maintain
Groups can opt to let faculty, graduate students, and staff maintain their own profiles. Drupal's strong permission system prevents them from editing content anywhere else on the site.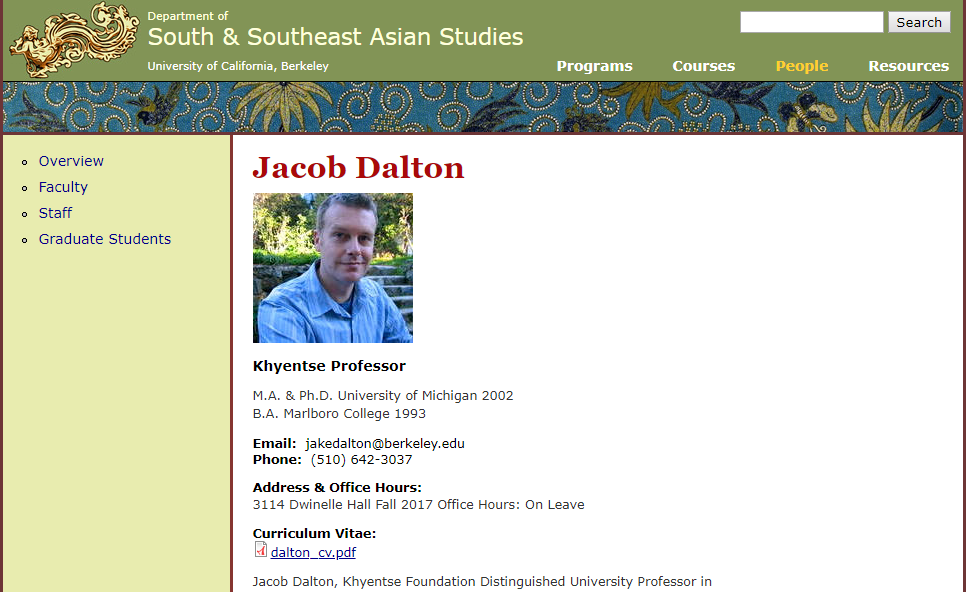 The Department of South & Southeast Asian Studies website makes it easy for faculty to log in and update their profile pages. They can post their CV as a PDF, provide their current contact information and office hours, upload recent publications and even display covers of their books.
Intuitive Interface that Lets You Keep Your Site Up to Date
You need to update your site on your own schedule, not someone else's. I use best practices and extensive experience in content management to create an administrative interface that is easy to use.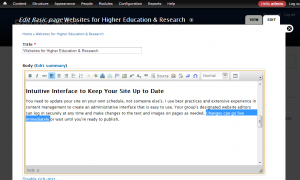 Your group's designated website editors can log in securely at any time and make changes to the text and images on pages as needed. Changes can go live immediately or wait until you're ready to publish.
Responsive Design for Mobile Devices
Students need to access information on the go. Industry partners want to view your site on a tablet. "Responsive design" allows your site to "respond" and rearrange its layout so that content still looks good on mobile devices with smaller screens.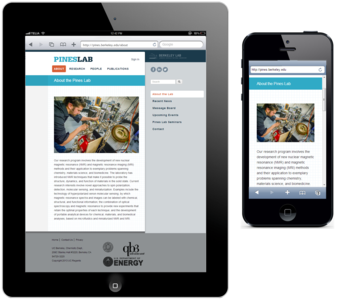 The Pines Lab features responsive design. To see it in action, visit the site and gradually narrow the width of your browser. As you go below certain widths, or "breakpoints," that correspond to typical device sizes, you'll see the site rearrange itself to keep the content in view.
Security and Backups so You Can Sleep Soundly
What happens if your site crashes or gets hacked? I can help you navigate the process of getting an SSL/TLS security certificate for your site so all logins and communications are secure. Automatic backups will ensure you can recover from a disaster. And after launch, I train your team how to check for security updates and am available to install them for you.

I can help you launch your site on Pantheon, UC Berkeley's preferred hosting provider for Drupal sites. Pantheon worries about maintaining server and network infrastructure so you don't have to.
Effective Training for Your Team
As you get close to launching your new site, I train your staff on-site to use Drupal's administrative tools to add and edit content on your site. If faculty and students will be maintaining their own profiles pages, I train them too. An extended, intensive training session is also available for system administrators and developers in your group who wish to learn how to maintain and extend Drupal on the backend.
Contact Me Today
I look forward to learning more about your project and your organization's goals. Contact me today to set up a time to talk.